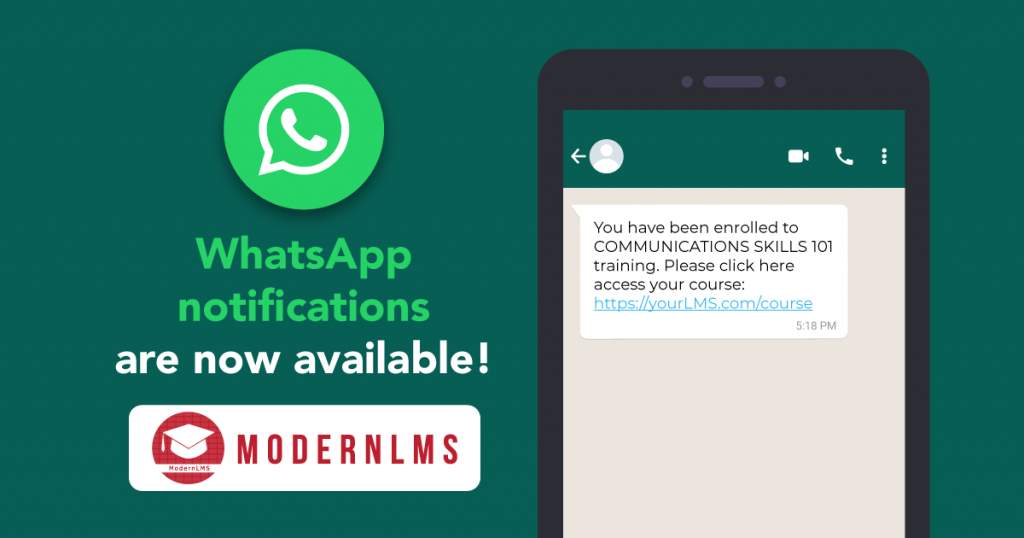 We are constantly updating, improving, and enhancing our eLearning platform to bring more values to our clients and our end users. Our roadmap for 2021 includes Machine Learning, Improvement of Mobile Apps and Improvement of the notification system. 
We are pleased to announce the new feature availability for ModernLMS- Whatsapp Notifications! 
With over 1.5 billion monthly active users, WhatsApp is the most popular mobile messenger app worldwide therefore, getting notified on WhatsApp would be the right choice and convenience for everyone. 
Currently, this beta feature is available for Enterprise users only. We might roll out this feature to the other tiers by the end of the year. Please note that WhatsApp imposes charges for each message delivered by businesses. The detailed message delivery rate can be found on Twilio. If you are an enterprise user and you are interested in this feature, please contact us here or create a support ticket in your support portal.  
If you'd like to see ModernLMS WhatsApp Notifications in action, schedule a demo today.