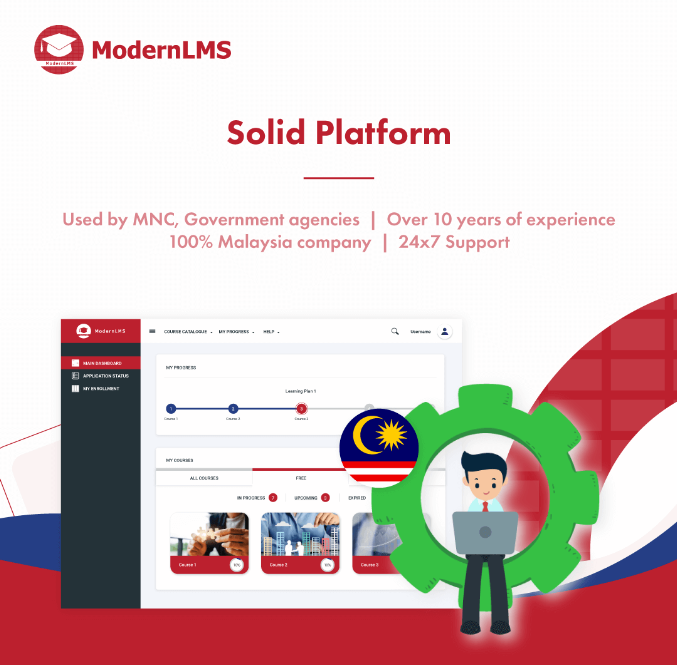 Established in 2015, ModernLMS is designed based on the world's no 1 e-learning engine with over 90 million global users. Now, the same quality services are made available to Malaysian companies and institutions.
What is ModernLMS?
ModernLMS is an eLearning company that has been in operation for the last 7 years. As the name suggests, they provide learning management systems that assist all manner of companies ranging from small businesses to large corporations. This even includes government bodies, private and public companies along with universities both public and private. In the short time, they've been in the industry, they have already racked up many accolades and have garnered the trust of close to a hundred renowned organizations all across the country.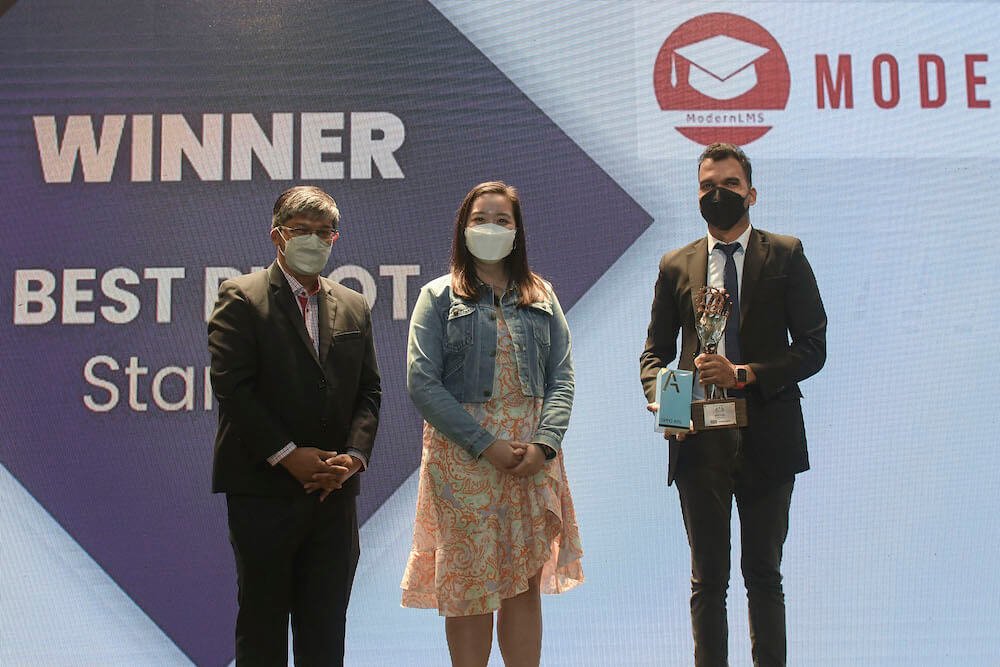 ModernLMS has seen significant growth in the last two years, with demand more than doubling. This is because the pandemic has highlighted the need for a virtual learning platform that is accessible, comprehensive, and dependable, such as ModernLMS. As of today, the ModernLMS e-learning platform has served over 300,000 end users and strives to cater even more in the coming years.
The accelerated growth of the company proves to be one of the driving forces for its Research and Development (R&D) team to keep improving, adding, and updating the features of its e-learning platform so that it can continue to offer the best available to e-learners in Malaysia. While physical classrooms have their merits, ModernLMS is shown to be an ideal one-off investment for your company to flourish in the academic sector.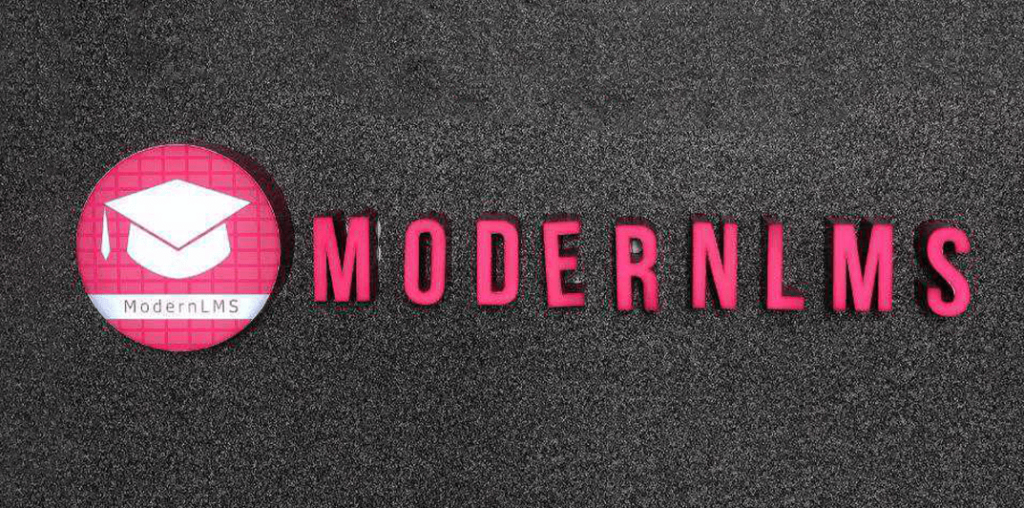 How eLearning can help your business?
In today's digital world, the importance of the e-learning system in education cannot be overstated. Web-based learning and virtual classrooms are quickly becoming the new norm in education. As a result, it is correct to state that more and more businesses should begin implementing e-learning systems within their organizations. Successful firms all around the world have ranked it as the second most beneficial training method. This is because of a simple, straightforward benefit of e-learning: time and money are saved. It has been demonstrated that e-learning can reduce instruction time by up to 60%. As a result, organizations were able to save at least 50% on training expenses when compared to conventional instructor-led training.
Besides saving time and money, eLearning can assist businesses in achieving organizational goals such as employee retention. Research shows that employees who are allowed to improve their personal and professional development skills have higher motivation to work. Training with eLearning will instill a sense of confidence in employees which will improve their quality of work. Additionally, because they can see their advancement and personal growth inside the organization, this creates workers who will be around for the long haul.
You are in Control
Whether the e-learning platform is on-premises or in the cloud, the clients have 100 percent ownership of it. They can completely personalize the learning environment and add their pizzazz to make it 100% their own. Clients are free to add their brand and logo to the platform; all ModernLMS does is provide the infrastructure and assistance for them to do so.
On ModernLMS, clients can create unlimited courses and content directly on the platform. That means no third-party tools are required. If you are using the platform to administer a test, you can customize the question type and utilize a random question generator to come up with relevant questions. An anti-cheating mode can be activated which will 'lock' other applications on the user's device during the test period.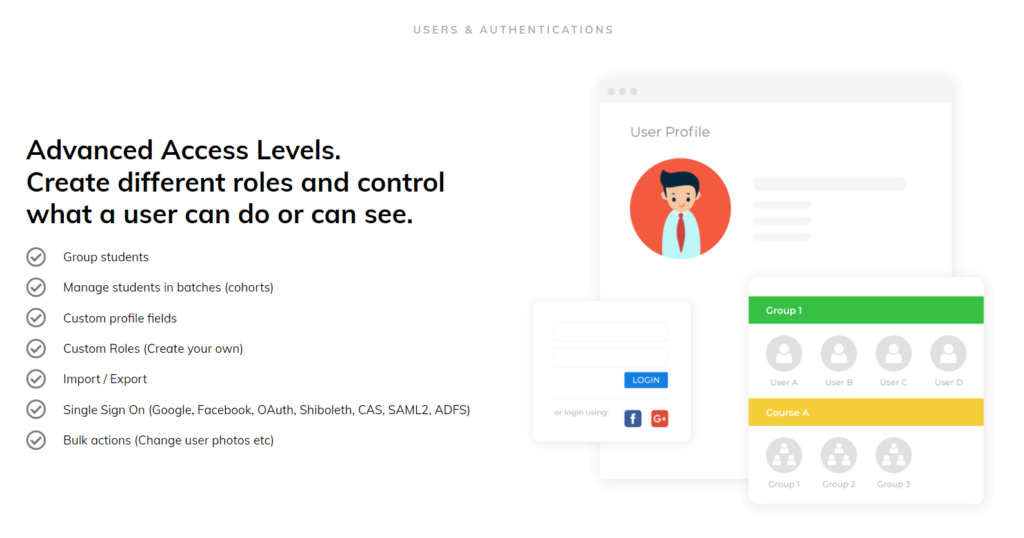 ModernLMS supports Hybrid Learning
More importantly, ModernLMS is built with the user in mind, with each feature designed to enhance the learning experience. There are three learning styles available: blended, virtual, and self-paced. Blended learning is a hybrid method of learning that combines in-person and online instruction. Virtual learning, on the other hand, is entirely based on online instruction, similar to the learning style that was widely used during the pandemic. Finally, self-paced learning provides greater flexibility than the first two options. As a result, you can customize your platform to meet the requirements of all types of modern learners.
The platform allows access to training information with just a press of a button. Users have 24/7 access to these resources thanks to all information being stored in the cloud. ModernLMS supports cross-platform activities which means the platform can be accessed via the web or mobile applications, available on Google Playstore or Apple App Store.
Get your Corporate eLearning now!
ModernLMS offers an on-site or online demo, so businesses interested in integrating eLearning into their systems should get in touch with them. ModernLMS promises to provide continuous support and customization freedom at affordable prices.